Just where will Portugal forward Diogo Jota play in the attacking machine that is Liverpool?
Jota, who signed signed a five-year deal with Liverpool is a threat to Belgian Divock Origi
It was a transfer that came virtually from nowhere.
Just days after the rumours first started to surface, Liverpool have added to their attacking options with the signing of Diogo Jota from Wolverhampton Wanderers in a deal worth up to £45m.
With Liverpool already boasting one of the best attacks in football in Sadio Mane, Roberto Firmino and Mohamed Salah, where does Jota fit in?
BBC Sport takes a look at what Jota brings to the club, whether Liverpool really need him and why Wolves would let him go.
What kind of player are Liverpool getting?

Diogo Jota
Jota, right, struck up a deadly partnership with Raul Jimenez at Wolves
Jota first arrived in England three years ago when Wolves were in the Championship and made an immediate impact, enjoying a prolific season in which he scored 17 goals as Nuno Espirito Santo's side secured promotion to the Premier League.
His two years in the top flight have not been quite so prolific, with a very credible nine goals two years ago followed up by seven last season.
Jota did, though, contribute heavily in the Europa League, scoring nine goals in just 14 games and his arrival at Anfield will certainly give Jurgen Klopp more options in what will undoubtedly be a tiring campaign both domestically and in Europe.

It is for that reason that Match of the Day pundit and former Tottenham midfielder Jermaine Jenas believes Jota will prove to be an astute addition.
"It is brilliant business," he told BBC Radio 5 Live.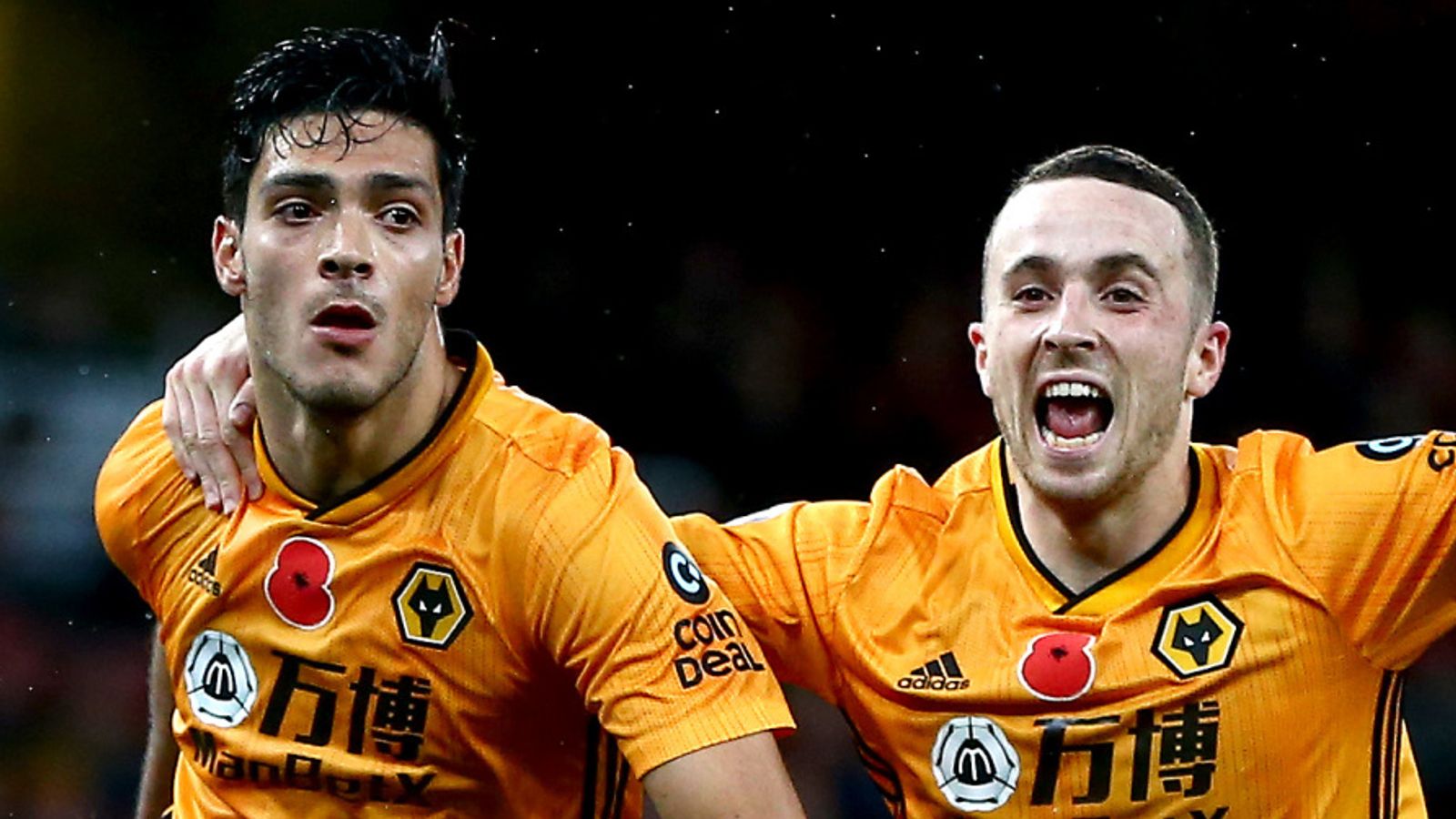 "You do get the feeling that if there is any part of Liverpool's team that gets overused it is that front three. Klopp very rarely rotates those players and this signing will keep them fresh.
"We are going into a season that will be very specific in terms of any season we have had, where rotation is going to be key. The games are going to be coming so thick and fast.
"This is a team that will feel they have won probably everything they have wanted to win at Liverpool and they need to feel on their toes."
Why do Liverpool want him and where will he fit in?
Sadio Mane, Mohamed Salah and Roberto Firmino
Sadio Mane, Mohamed Salah and Roberto Firmino scored 46 goals between them in the Premier League last season
For all Liverpool's insistence they would not be spending big money, it was never likely they or Klopp would simply rest on the team that gave them their first title in 30 years last season.
Thiago Alcantara was never off the radar at any point so it was no great surprise when that deal was done with Bayern Munich.
But this £45m move for Jota is more surprising.
It makes sense, however, given Liverpool felt Watford were asking too much for Ismaila Sarr and 23-year-old Portugal international forward Jota also fits the bill perfectly.
He has proven himself at Premier League level, although he scored more heavily in the Europa League last season, and provides pace and the versatility that enables him to play across all three front positions in Liverpool's preferred system.
Klopp will see Jota as a tried and trusted Premier League player who can not only flourish in his own right but also reduce the burden on Firmino, in particular, as well as Mane and Salah.
How the attacking options compared in 2019-20