Seated at the reception of her office at Kwa Mwango and just next to SBS FM Radio station along Kilifi-Malindi highway, Kibibi Ali welcomes us in.  – By Ramadhan Kambi.
It is at around 11 am and seated next to her is her office assistant and a woman cuddling a sucking child.
Kibibi Ali is the founder and County chair of Kilifi Mums Women Group an organization based in Kilifi town.
"This is where our Kilifi Mums CBO offices are situated and welcome. We are proud to host you," Kibibi, the founder of the organization told Uzalendo News when we sat down for her story.
For starters, one might think that these women have no offices just because of their intense of activities that traverse the entire Kilifi county and beyond, advocating for an end to teen pregnancies, Sexual and Gender Based Violence (SGBV) among a raft of other social ills bedeviling the Kilifi society. 
They have been going around the county campaign to end for the vice, a move that has seen some of the culprits taken to court to face justice.
"We have an office here but most of the time, I am in the field with my team because of the many cases reported to us that range from rape, incest, gender based violence. They are reported in plenty and my office is always full of women and young mothers seeking our services," she said in an interview.
True to her word, she late informed me that the women I found next to her had come to seek their services after her husband ran away, living her with three young children.
"When you entered this office, the woman you saw had come to report her case. She was abandoned by the husband and is now suffering with the children. She has reported the case and we shall start following it up. This is just but among the many cases we record almost every day," she said. 
With over 7,000 membership in Kilifi County, Kilifi Mums has taken the battle to end the vice which Ms Kibibi attributes to some cultural beliefs that some have gone past the ages and should be abandoned for the communities to adopt new and modern ways of living.
"Kilifi County has 35 wards and we have a total of 200 members in each ward, which translates to 7,000 members. These are community volunteers that reports the cases to us from the grassroots for us to follow up," she said.
Some of the cases are disturbing and sometimes take toll on Ms Kibibi's daily life.
"There was the case of Shukrani Katana, the young girl who died under unclear circumstances at Bamba police station. The gory image of the girl and taking into consideration that I am also a mother, this case affected me the most. We pursued it with different organizations and we are sure that finally justice for Shukrani will be achieved," said Ms Kibibi. 
Most of the cases they receive are from Ganze and Kilifi North especially in Ganze where old men prey on young girls to have sex with them.
Ms Kibibi told Uzalendo News that she started the organization in 2015 but was officially registered as a CBO in 2019, almost four years into an active advocacy within the region.
"Kilifi Mums started as a WhatsApp group that I formed after I realized that many women in Kilifi had their tales to talk but had no platform. So when I formed the group, I later discovered that many women reported severally cases of SGBV and I noticed that there was a problem," she said.
It is now almost six years and Ms Kibibi says the organization in its own way and with support from different entities has been able to address some of the challenges facing Women and young girls in the county.
"We work closely with both the national and county government when it comes to gender issues. The county government department of gender under Dr Anisa Omar has roped us into some of its activities and that has enabled us to even venture more into the communities to address these challenges.
Governor Amason Kingi has also came in handy to offer support for the organization escpoecilaly in our teen pregnancies advocacy segment where we undertake a lot of sensitization and campaigns to end teen pregnancies and instill hopes for the young mothers," she said.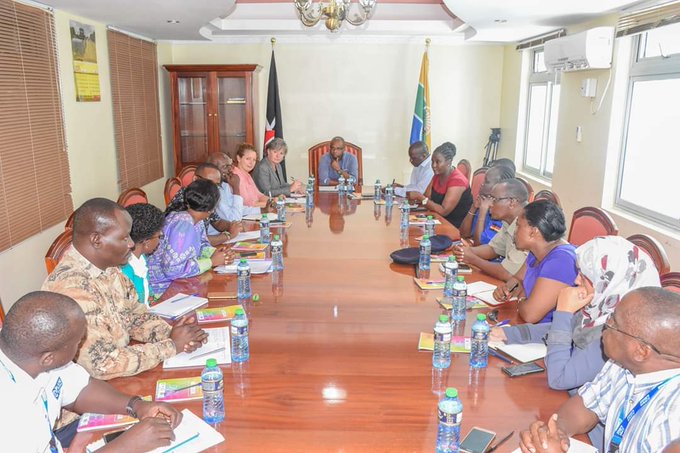 Kilifi Mums she said has also worked closely with other organizations like HAKI Africa and FIDA, in addressing these challenges.
But this job has not been a bed of roses for the 40 year old because she sometimes faces some security challenges that sometimes gives her fear.
"Sometimes a case is reported to you but when you go into the village, you face an irate crowd and you have to stay away for your safety. We are in a society that is still more shrouded in old cultures that see some of these efforts as non-issue and chase us. But I call it part of our challenges we have to preservers," she added.
The organization also runs some income generating activities to support their mobilization programs. Some of the projects they undertake is making liquid soaps, train mothers on the same and also rent and hire tents.
"The proceeds from these activities are channeled to our schedules of community engagement. They make us moving," she said.
Ms Kibibi called for more support saying that after the effects of the corona pandemic, had to scale down their operations as they ran out of funds to continue with their activities.
"It's tough for us because we are getting a lot of reported cases but again our efforts to reach to the communities is limited by funds," she said.
As I left the offices, Ms Kibibi had a word that 'We shall not relent until the SGBV cases in this county are full addressed. It's our challenge and must be met with a solution," she added.