Atleast 400 nurses have been removed from Kisumu County payroll, after refusing to show up for work despite an alleged agreement with the government. – By Gerald Gekara.
In his notice, acting Chief Officer for Health and Sanitation Dr Gregory Ganda indicated that the nurses should return all government property in their possession.
"All officers in this list have been withdrawn from the payroll henceforth and those who erroneously received their December 2020 salaries, not having worked, shall have the same recovered," said Dr Ganda.
However, Kisumu county opened a window of opportunity for those who are willing to resume work. One must reapply to be re-admitted and show cause why disciplinary action should not be taken against them for absconding duty.
"Show cause letters will be issued through respective sub-county medical officers of health starting on Wednesday and each person shall respond individually through their respective senior officers stated above," said Dr Ganda.
The nurses are the latest victims in a series of widespread sacking across county governments, moments after Council of Governors' chair Wycliffe Oparanya declared that it will not address all issues in the return to work formula.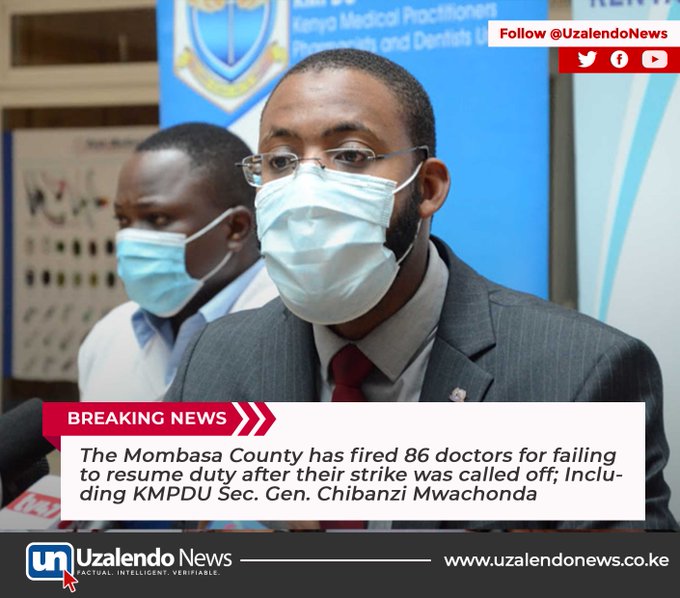 Without favour, Mombasa county fired the Kenya Medical Practitioners and Dentust Union (KMPDU) Chairman Chibanzi Mwachonda alongside 86 other doctors and specialists, over the same.
"Following the correspondences shared between the Department of Health and the County Public Service Board on the doctors strike, the Board pursuant to Section 59(1) (c) of the County Governments Act No. 17 of 2012, hereby conveys its decision vide Special Board meeting held on January 5, 2021, that all the doctors who have failed, refused and/or neglected to return to work be dismissed from County Services," County Secretary Jeizan Faruk said.
The sacking comes at the backdrop of a decision by health workers, who gave counties a 48 hour deadline to sign a return to work formula as directed by the Ministry of Health.