The manager of  Edgar Obare's account on Instagram posted on Edgar's story that Edgar has been arrested and detained at the Muthaiga police station and hopefully to be taken to Kiambu Law Courts today. – By Sharon Maina
 The alleged charges against him are, computer misuse and cyber-crimes act of 2018 contrary to section 23 of the said act.
However, it appears the charges against the Tea master Edgar are indeed based on a high ranking governor… Governor Alfred Mutuas.
A case of Blackmail?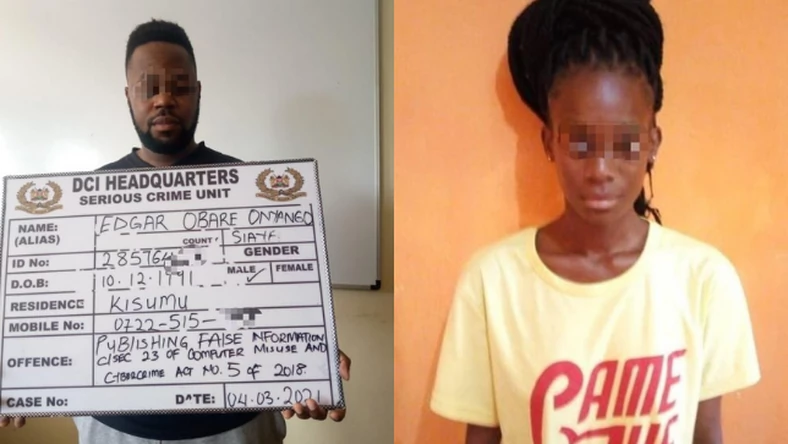 Apparently, Obare coached a lady, Desy Oduor Achieng, on how to stalk Governor Alfred Mutua with the hope of extorting Ksh. 10 million from him. Obare shared the governor's number with her and instructed her to tell him that she was pregnant with his child and that she would tell the whole world about their little secret.
When the governor did not respond, Desy was instructed to threaten him that she would share photos that they had allegedly taken in compromising situations but the governor did not respond.
Dejected that their plan wasn't working, Edgar took to his social media pages accusing the governor of impregnating a lady and falling to take responsibility. The supposedly pregnant lady wasn't aware that all along, Edgar was taking screenshots of their conversations and her photos.
Fearing the repercussions of Edgar's actions, she reported the matter to DCI offices in Nyali. Detectives have since established that the lady isn't pregnant as she had claimed.
The lady has said she has never met the governor and that she had been recruited by Edgar to extort money from the governor. She has been arrested alongside Edgar and they will face charges in regards to publishing false information.
Edgar — Being Extorted is very common
This story is contrary to what we see in a conversation Edgar and the governor had as posted by Edgar's platform manager on his instagram.
"Being extorted has been very common in my life –especially when siasa heats up. It comes with the territory. First time hearing of this particular one in detail but someone tried something similar and I am suspecting it is the same team. Let me try and trace the similar one you compare notes. Will revert." Governor Mutua told Edgar on February 25th 2021 on his dm.
"Did you find the other similar story, I compare .The story is about to go up" Edgar replied to the governor the same day.
"Yes and the DCI have found the cartel. They will call you as a witness. Someone will be in touch with you." The governor replied to Edgar in their conversation.
From this conversation Edgar was to be a witness but now he has been alleviated the cartel. At this point everyone is confused on who is telling the truth. Edgar and the governor will both have their day in court and the court will determine who is telling the truth.