The Kenya Airports Authority (KAA) has declared intention to auction or raise parking fees for over 101 aircraft abandoned at various airports across the country. KAA says the airplanes are a safety risk – By Gerald Gekara and agencies.
The aircrafts iunclude 748 Air Services, Silverstone, Jetlink and Fly540 supposedly used to ferry VIPs.
"The aircraft must be removed within 30 days from the date of publication of this notice and upon payment of all outstanding charges and any incidental costs including the cost of publication of this notice." announced the KAA.
The authority lamented over millions of shillings in accumulated parking and landing fees arrears, setting the stage for Kenya's biggest auction of aircraft.
According to The Kenya Civil Aviation Authority (KCAA), 87 new aircraft were registered last year, pushing the number of planes in the country to 1,548, excluding those owned by the National Police Service and the Kenya Defence Forces.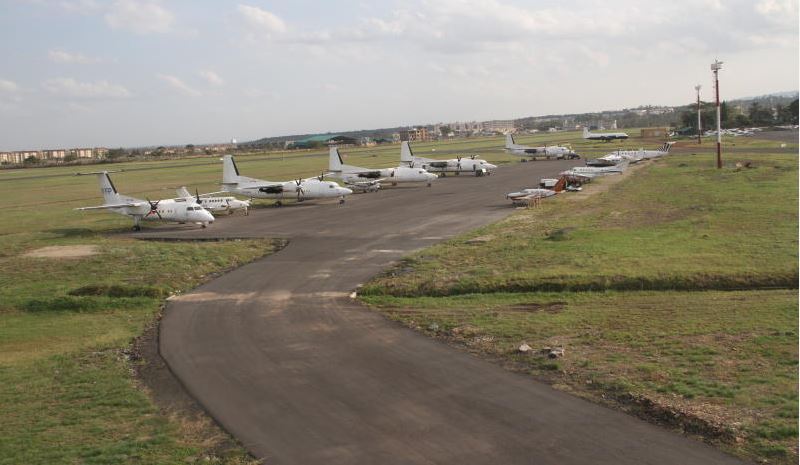 The abandoned planes are parked at JKIA, Moi International Airport in Mombasa, Lokichoggio Airport and Wilson Airport.
748 Air Services, a commercial carrier, has abandoned eight aircraft at Lokichoggio Airport, including smaller models such as the HS748 and medium-sized turboprop planes.
Aero Club of East Africa – a lobby group of private aircraft owners – attributed the growth in the number of registered planes to Nairobi's rising status as the region's business hub and a growing number of wealthy individuals with the means to own and maintain an aircraft.
Air operators say that the biggest headache in owning an aircraft lies in operational and maintenance costs, including high jet fuel prices, airport landing fees, parking fees, insurance and spare parts.
Large aircraft pay $25 (Sh2,707) daily to park at airports like Jomo Kenyatta International Airport and $585 (Sh63,355) and $702 (Sh76,000) to land during the day and night respectively.