Just incase you forgot, Kenya is still under COVID-19 Control measures. These measures include maximum 100 people sitting for large gatherings, a dusk to dawn curfew and most importantly, a BAN on political 'super spreader' rallies. – By Gerald Gekara.
Kenya is slowly scaling its heights, exactly 1 and some months to the 2022 general elections.
Despite this rude reality, efforts to curtail political gatherings that follow protocols have since been fruitless.
At the helm of the campaigns, is one Deputy President William Ruto. Accompanied by his allies in the 2022 polls, the DP has stood his ground in suggesting that efforts to pass the BBI amendments should be directed to fund COVID-19 measures.
Even those supporting the president and Raila Odinga's push for the BBI have been pictured hosting events that hardly provide for sufficient oxygen circulation, as Health CS Mutahi Kagwe put it.
Is COVID-19 Immune to rallies?
However, while addressing this issue to mammoth crowds with a handful of mask-dorning Kenyans, politicians and their rallies have since been declared immune of the COVID-19 virus.
The Ministry of Health has so far had nothing to say to those rallying, other than cautioning Kenyans against 'acting normally during abnormal times.'
The pandemic has seen massive loss in business opportunities that have for long depended on crowds.
Services such as entertainment, hotels and church installations have lost huge chunk of their investments due to the requirement to achieve social distancing in their venues.
As this happens, the government closed the curtains on tax breaks that would cushion entrepreneurs against losses.
Schools have been forced to adopt green classrooms, (otherwise known as tree shades) to achieve the 1.5 Meter distance so as to keep their doors open to children, as well as lift the burden off parents.
Walk the Talk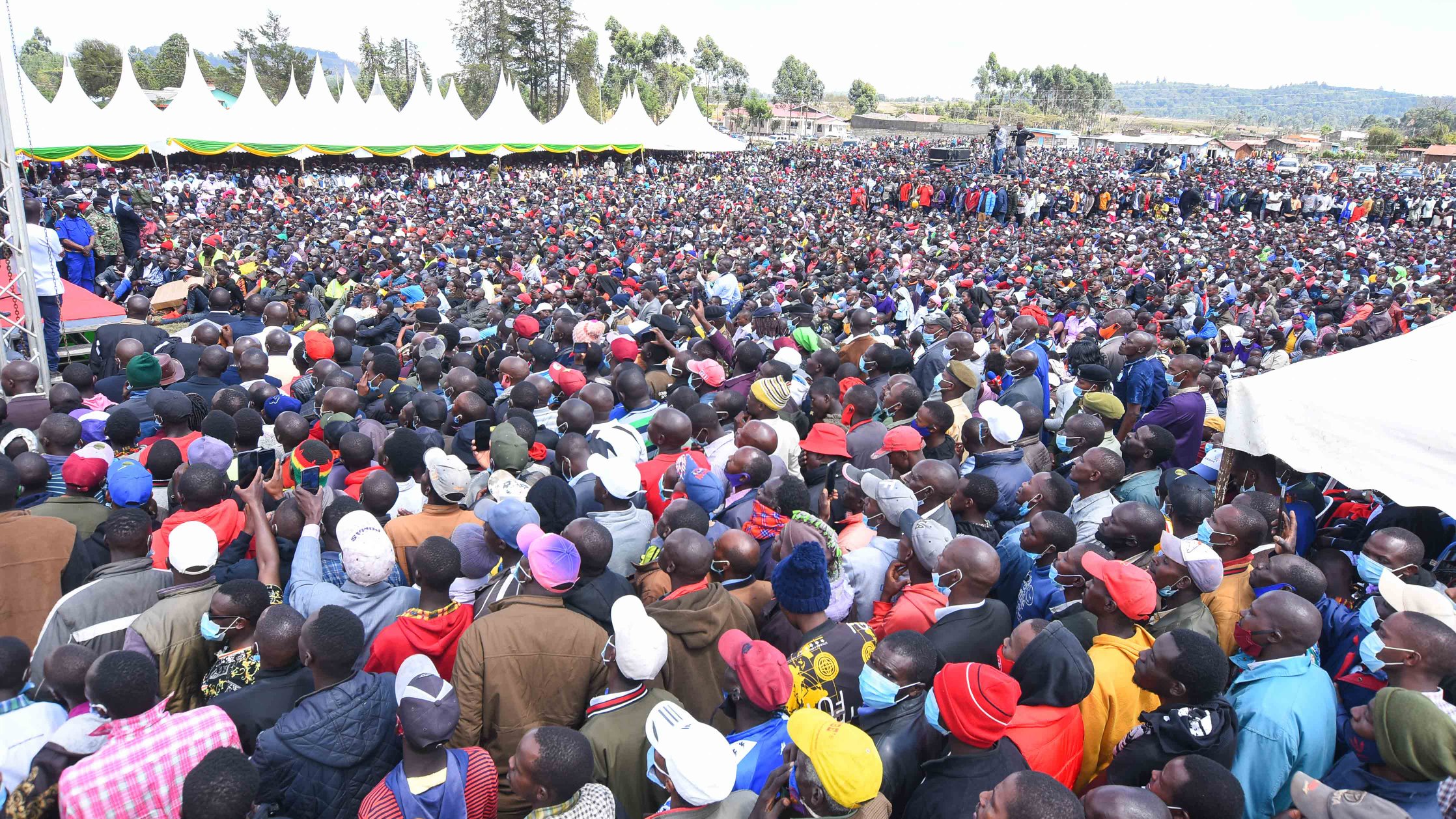 But despite all of this, several Kenyans feel cheated when they turn on their televisions and witness massive rallies that are blind the COVID-19 pandemic in the city.
Coincidentally, cases have fallen with tallies lingering under 100 cases in a day.
As Kenya continues to grapple with the situation, it is prudent for to note that nearly 1800 Kenyans, including high ranking government officers, have been lost to the scourge, and infections have towered at nearly 100,000 cases.
Politicians, especially those calling for a pitstop for the BBI train to address COVID-19, need to wake up and realize Kenyans are looking up to them for direction.
The Ministry of Health, who's association with the Kenya Police has seen brute force against Kenyans found walking without masks, needs to crack the whip on lawbreaking politicians.
Unless the COVID pandemic has chosen to take sides with whom it wants to affect.