Ngaren, the Museum of Humankind, that was commissioned by paleoanthropologist Dr. Richard Leakey is set to be constructed in 2022.
Ngaren has been touted as Africa's most technologically advanced museum.
According to its developers, the museum will be built in where Dr Leakey first discovered the skeleton of 'Turkana Boy' in 1984.
The monolithic volumes rise like vertical stalactite set against the dramatic landscape of greater Nairobi in Loodariak. Through a series of interactive, cutting-edge exhibition spaces, Ngaren will unravel the mysteries of our beginnings.
"Ngaren is not just another museum, but a call to action. As we peer back through the fossil record, through layer upon layer of long extinct species, we are reminded of our mortality as a species." Dr Leakey said.
The development's design is drawn from ancient hand axes and other primitive tools, as designed by Polish architect Daniel Libeskind.
"The museum will be a place for discovery, wonder, and contemplation. Through the architecture and exhibitions, Ngaren will anchor all walks of life to Africa: the epicenter of human existence," said architect Daniel Libeskind.
"I created a series of dramatic spaces within the museum that are architecturally dynamic and provocative, creating a unique context for the museum's exhibitions that does not pacify artifacts, but enhances and enlivens them," added Libeskind.
In line with its futuristic designs and technology features, the Museum will feature Virtual Reality (VR) headsets for visitors to interact with virtual early humans and their lush green forest days.
"Maybe we don't want to exhibit the original fossils at all. Why don't we have a room you come in to wearing a 3D headset and sit quietly in the middle of a band of Homo erectus moving all around you? That's much more interesting than a skeleton of Turkana Boy behind glass," Dr. Leakey added.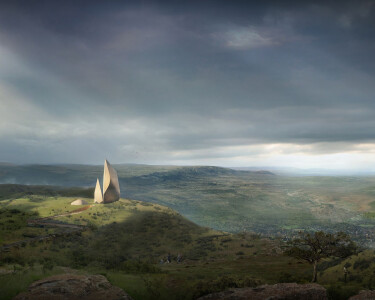 Ngaren is also set to feature green energy sources, such as wind and solar power, with zero-carbon footprint.
Ngaren will be open to the public in 2024, and is expected to boost education, research and tourism sector in the region.