Governor Wycliffe Wangamati's push to create Webuye and Chwele Municipalities and to expand boundaries of Bungoma and Kimilili Municipalities has been approved.
A nine-member Ad-hoc committee appointed by Cabinet Secretary for Ministry of Transport, Infrastructure, Housing, Urban Development and Public Works Hon James Macharia has handed to the CS four reports approving the Governor's proposals.
In 2019, Governor Wangamati wrote to CS Macharia requesting for delineation of boundaries of four urban centres in the County in a process that would see Webuye and Chwele Towns become municipalities and boundaries of the already established Bungoma and Kimilili Municipalities expanded to cover more wards.
In the 4 reports to the Cabinet Secretary and copies of which were handed to the Governor, the ad-hoc committee approved creation of Chwele and Webuye Municipalities as well as approving the expansion of Bungoma and Kimilili Municipalities.
According to the reports, Webuye Municipality with an estimate population of 146,579 sitting on 179.5km² will cover 16 sub-locations including Maraka, Nang'eni, Matulo, Township, Lugulu, Malaha, Mitukuyu, Mihuu, Kituni, Sirisia, Misikhu, Mukhe, Nambani, Sirende, Marinda, and Magemo.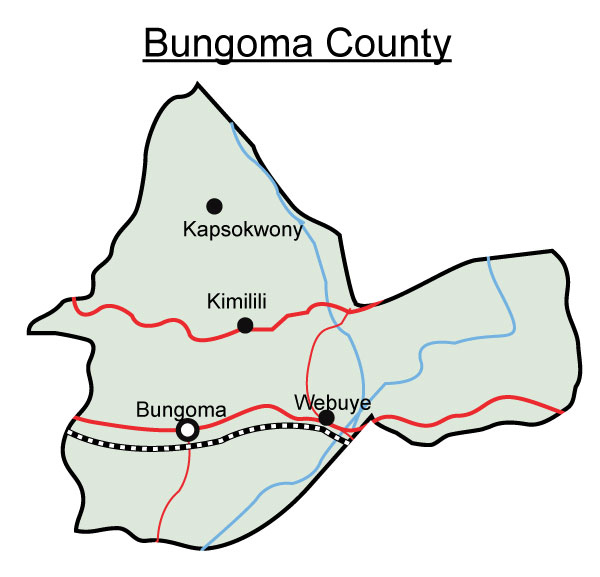 Chwele Municipality will cover 12 sub-locations with a population of 110,554 covering 178.7km². The sub-locations include Chwele, Kibichori, Mukuyuni, Sichei, Sikulu, North Nalondo, Sikusi, Mukhweya, Central Namwela, Kolani, Sibumba, and South Namwela.The new boundaries for Bungoma Municipality will cover 22 sub-locations with a population of 269,764 sitting on 274.7km².
They include Bungoma Township, Khalaba, Namamuka, Namasanda, Samoya, Sio, South Kanduyi, Tuuti, Mayanja, Kisiwa, West Nalondo, Nangwe, Ndengelwa, Ranje, West Sang'alo, Namwacha, Kabula, Watoya, Mateka, Muanda, Ng'oli and Mayanja.
In Kimilili, the new boundaries will cover 18 sub-locations with a population of 162,038 sitting on 179.5km².
They include Bituyu, Kimilili Township, Khamulati, Kimilili Rural, Kibingei, Kitayi, Chebukwabi, Kamusinga, Kibisi, Sikhendu, Kamasielo, Nasusi, Kimakwa, Musembe, Nabikoto, Makhonge, Mapera and Mbongi.
According to Governor Wangamati, the report shall be brought before the Cabinet, then taken the County Assembly for approval before forwarding to the Cabinet Secretary. The Governor estimates that by end of February, the new municipalities shall have been gazetted and their board constituted.