Written By Henry Kimoli
Since its inception in 2008, the Kenya National Highways Authority (KeNHA) mooted an air road that is now a reality.
Three Director Generals namely Engineer Meshack Kidenda, Engineer Peter Mundinia and Engineer Kungu Ndun'gu have overseen the execution of the project.
Kidenda the original design, Mundinia launched the works and Ndung'u completed. In between, the sheer dedication and hard work of various cadres ensure seamless execution.
And then there is the board. The first Cohort was chaired by Mrs. Hannah Muriithi, the second by Engineer Erastus Mwongera. And the current chair Wangai Ndirangu.
The Ministers were Franklin Bett, Engineer Michael Kamau, and James Macharia.
Now that this project is complete, KeNHA will now focus on dualling Mombasa Road and the Nakuru Mau Summit Road
The Expressway was not devoid of challenges.
Covid-19
The pandemic ravaged the world. And affected project implementation. Employees worked in camps to avoid contracting the disease.
Although it was tough, the China Road and Bridge Construction Company (CRBC) reported no deaths during the upturn and downturn of the pandemic.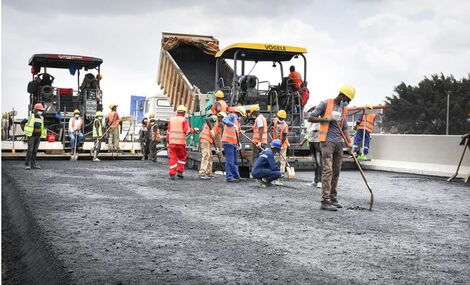 Railways Golf Club
The owners of this elite club refused to surrender their lush gold yards to the Government for the Haile Selassie exit. As such, there is no exit here from the elevated Road.
No reasons were given for the refusal.
The Uhuru Park
The iconic Park is a Wangari Maathai "protected" area.
Efforts to fence off a section of the road reserve that borders the park were met with activists, who claimed the park was being grabbed, However, KENHA clarified that not a single inch will be touched.
As such, engineers could not even touch a blade of grass because even KANU was chased away like a rabid dog.
The Pope Francis Altar
This is bang in the University of Nairobi graduation square. Again no one wanted to tamper with this consecrated site blessed on 26th November 2015.
Okiya Omtata brigade
This army of litigants was waiting on the sidelines to stop the project. By the time they realized, it was already halfway done.