President Kenyatta has called out sponsors for what they are, sex pests and told them to stick to their wives and their age mates.
Critically, the President is speaking to MPS, Senators, influence peddlers, men and women of power, known to prowl young girls.
By so doing, the President is endearing himself to the youth, who daily groan under the weight of sponsors and their ways.
But the boy child is not alone….there are sugar Mamas who daily molest young men, demanding and obtaining sex while paying for their lifestyle.
……
Uhuru: Mzee Will Defeat You
President Kenyatta is preparing DP William Ruto for a role in the official opposition terrain.
During his state of the nation address, Uhuru enumerated how he joined politics as a nominated MP, served as an opposition leader, a Deputy Prime Minister under Raila and finally as President.
Ruto joined as an MP, served as Railas Agriculture Minister…then Hague and now borders political purgatory.
While at Nakuru, Uhuru boldly came after his DP for his energetic campaign season that was the hallmark of Jubilee's second term.
"So follow my example…there is life after political disappointment."
……
Nax Vegas Finally A City
The City of Nakuru. Independent, and Kenya's cleanest Town.
Second-home to President Jomo Kenyatta. 
President Moi's adopted home and final retirement site.
The chilled-out neighboured was a hiding Bush for Moi when he was banished by the 82 Airforce from the City.
Will Nakuru host the next DP in Governor Kinyanjui?
It is rumoured that Kinyanjui is a close relative of the Moi dynasty through marriage…
What an honour to a deserving City!
Sunset Jamuhuri For Uhuru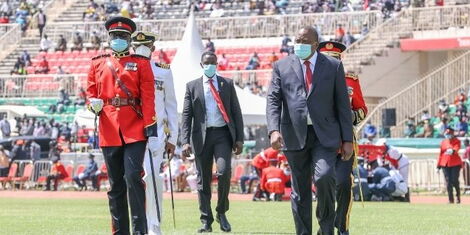 In a week's time, President Kenyatta will celebrate his last Independence day as President.
He will be expected to set the tone for his retirement.
He will parade his successors at the event.
Kenyans better prepare for a long BBI speech, his Deputy's turbo-charged Wheelbarrow gospel and Azimio Raila's final decision.
*This article was written by Henry Kimoli for Uzalendo News.  Email: uzalendonews24@gmail.com to submit your story.
SUBSCRIBE TO OUR YOUTUBE CHANNEL